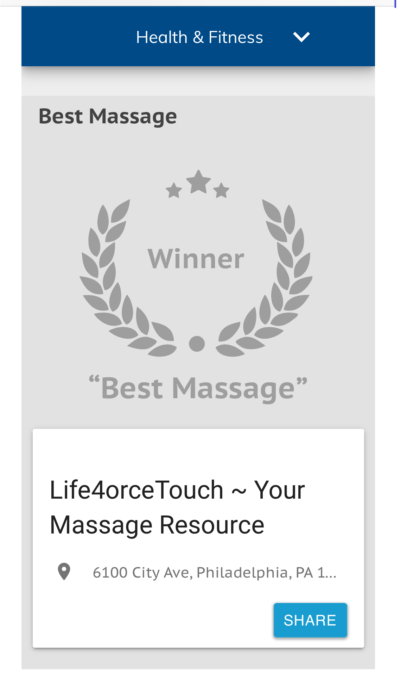 Click here to Read More Than 100+ Yelp Client Reviews
Don Defries  July 8, 2018
★★★★★ "Frank takes the time to understand the problems you are experiencing and provides the proper therapy to bring relief. The atmosphere is tranquil and relaxing; I cannot wait for my next appointment."
Elizabeth Gordon   January 18, 2018
★★★★★ "Thank you, Frank! My whole body feels better, lighter, calmer; and I can move my shoulder more easily and with less pain."   
Christine K   January 13, 2018
★★★★★ "I had a great massage and will definitely be returning."
Maria Schmieder  January 24, 2018
★★★★★  "I received a fantastic massage that included a variety of techniques including hot stones, trigger points, deep muscle massage and light massage. The atmosphere was peaceful and relaxing and included aromatherapy and sounds. Frank is very effective and knowledgeable. Thank you!"
Anthony T   February 7, 2017
★★★★★ "Frank's practice saved me on a Sunday afternoon.  My chiropractor was not available…my wife found Frank's practice and made an appointment for the next morning which was a Sunday. I was relieved to find help on such short notice. My visit was wonderful both psychologically and mentally. A good mix of spiritual support and hands on body work. I left the studio feeling better. I have recommend Frank's practice to my family and friends."
Wayne Leiss    February 26, 2017
★★★★★  "I really wish I lived closer to Philly! Stopped on my way from CT to Northern VA for a wonderful 90- minute session. Frank's space is well appointed, relaxing and very welcoming (as if Frank). He spent some time before my massage learning my habits and did an initial wellness screening then gave me a fantastic massage blending techniques from multiple modalities including hot stone, Swedish and Thai massage. Afterwards he gave me a number of self care tips I could do going forward. As a licensed massage therapist myself who has experienced different massage modalities around the world I highly recommend Frank and his service. You deserve the best and that is Frank!"
Jeffrey T  February 22, 2017
★★★★  "Relaxed atmosphere, very knowledgeable practitioner… I have significant spasm in my upper back and neck prior to that massage I was able to sleep comfortably the following night…
Productive interaction and will return for future treatments."
Auriel Scott-Long   March 19, 2017
★★★★★  "Frank was an absolute delight. This was my first professional massage and I enjoyed every minute of it. Frank cared for my mind, body and soul. I have never been this relaxed in my life. I can not wait to go back. I highly Recommend Frank."
Joseph R  March 20, 2017
★★★ "The massage was very relaxing, and I think Frank is a great therapist. My goal was to solve specific muscle issues and I should have asked him to go deeper faster."
Paul H    April 5, 2017
★★★★★ "Hey just want to thank you for all your expertise. I can now move my arm up behind my back. 90% of the pain is gone. I barely feel it when I move my arm or shoulder. I'm still doing the stretches. Just wanted you to know how awesome you are. First chance I get I will come by again. Thanks again for an awesome massage."
Bernardo A Merizalde, MD.   April 16, 2017
★★★★★ "I have my first session with Frank, at Life4orceTouch and had an extraordinary experience. He is a very knowledgeable, caring, and thorough professional. It was clear that his work is focused primarily on his client's needs. He has a broad range of knowledge and applies it to whatever the client needs. It has been a great find for me, who have been working with a number of different massage therapist, chiropractors, physical therapists, and osteopaths."
Keryl Miglioretto   April 19, 2017
★★★★★ "What an absolutely fabulous experience! I'm so glad I decided to schedule a massage yesterday. It was a last minute decision, which is rare for me. I tend to consider a decision for months, if not years, before following through. I'm glad I stepped out of my comfort zone last night. The atmosphere was soothing and relaxing, and Frank was great. I've been so focused on my knee and lower back pain, I totally missed that the rest of my body was also extremely unhappy. Within minutes, I was wandering the world … or worlds. I have not been so relaxed in … ages. If ever. I look forward to scheduling another session. Frank is absolutely … amazing!"
Dan P   May 17, 2017
★★★★★ "This was a great massage, but the "therapy" aspect of it FAR exceeded just the rubbing and pushing of muscles. Frank has a very accepting and welcoming energy, but still challenges you to be your best self, even if that is not the path of least resistance. Overall great experience, and I will be back for sure."
Malana McLellan   May 24, 2017
★★★★★ "Frank listened to my needs then went to work. His knowledge and expertise quickly got the source of my pain. Frank gave me easy and workable solutions. I walked out of his office taller, and straighter than I have ever been in my life. If you are looking for someone to listen and give you practical solutions, I highly recommend calling Frank at Life4orceTouch."
Colleen Gaynor   May 31, 2017
★★★★★ "Hand & Stone vs Life4orceTouch Your Massage Resource…Frank created a safe space for healing and relaxation during my massage. I felt comfortable and cared for, and those are two of the most important elements to allowing me to get the most out of my experience. I have been receiving massages regularly at Hand and Stone massage, and they don't come close in comparison to the expertise and massage experience I had with Frank. I highly recommend Frank for those that want a more personalized healing experience!"
Matthew Matula   June 16, 2017
★★★★★ "Frank was excellent. He spends time to get to know you and where you stress settles and then uses every technique to work it out of you. I left on a relaxed cloud feeling fantastic. He's truly a gifted body worker."
Monte L      June 26, 2017
★★★★★ "Frank took time at the start to show me my alignment issues in my posture. He also gave me suggestions of things I can do between sessions to correct those issues in he future. The best part–the consultation part didn't count against my massage time. He was very professional and had great technique. I would recommend everyone to give him a try. You will become a fan."
Katie La Valle    June 29, 2017
★★★★★ "Frank was wonderful, I highly recommend his therapy. As a LMT myself, I tend to look for a therapist with extensive skills and knowledge. I just moved to the area so i had to just give someone new a shot. I was very happy with the treatment I received. Furthermore, frank took the time to inquire about myself and my reasons for seeking body work in detail, demonstrating his genuine care. As a woman, naturally I was a little hesitant going to a private practice with a male therapist but i can assure anyone who may be questioning the same you have nothing to worry about. Frank really does show the utmost professionalism and sincere kindness, I was very comfortable the entire time and left feeling great and informed."
J Sharpe   August 8, 2017
★★★★★ "We couldn't have been more impressed with the service and results. I'm currently referring Frank to everyone, and I mean everyone I know."
Danielle P     August 28, 2017
★★★★★ "Frank is fantastic. He takes the time to ask questions and customize according to your needs. My back isn't in pain for the first time in months." 
David Milley   September 23, 2017
★★★★★ "Last weekend, I sprained my back carrying too heavy a load in the yard and have been immobilized by pain for six days. No improvement until this afternoon, when Frank did some heavy-duty work on my left shoulder blade and the muscles that had gotten twisted up around it. I'm off the fistfuls of ibuprofen now, and feeling well on the way to recovery. Thanks!"
Joshua Giambalvo    September 23, 2017
★  "I walked to the address and there is no such building within a sign for this business. I called the business number, but nobody answered or called back.
Frank (Owner's Response at Life4orceTouch)
Good Evening Josh,
I am sorry I missed you and for the undo Frustration you experienced. Unfortunately, your VM box was full when I called back and appears you did not receive my text response to your voice mail Inquiry to schedule an appointment for massage before writing your Review. I hope you will consider booking an appointment in Advance as walk-in appts are not always available. (See Text Msg Below)
Good Morning Josh, 
Thank you for your call and Choosing Life4orceTouch for your Massage needs. My Studio is at The Point on City Avenue. My 1st available is Tuesday after 4 pm."
Book On-line anytime at: MassageTherapyInPhiladelphiaPA.com
Ruby Lawrence     September 23, 2017
★★★★★ "Frank is amazing at what he does. My husband was in terrible Sciatica/Piriformis syndrome pain when we went to see Frank and he walked out of the session visibly pain-free. He was walking without a limp and overall felt a whole lot better. I cannot thank Frank enough for his services and his support. We're making another appointment next week. If you're thinking about getting a massage, go to Frank. You will not be disappointed."
Diane R     September 28, 2017
★★★★★ "I have had back problems since my late teens and I am well past my teens at this writing.  I have a herniated disc as well as arthritis throughout my spine and have been to chiropractors and massage therapists from one end of the country to the other.
I was intrigued when I noticed the myo-fascial massage offered  and decided to give it a try while on a stressful work assignment in Philadelphia.  Never have I had a massage therapist work so intuitively with my back.  It was as if he were reading the muscles and where the issues were, then slowly stretching, pressing, and massaging the pain out of each one.  I came out of my session feeling relaxed and my spine had more movement than it has in years.
In addition to this wonderful massage Frank also gave me advice on sitting and standing correctly.  It's apparent that he enjoys his work and wants to do his best.  I whole-heartedly recommend Frank to anyone interested in a mindful massage."
Tim W          October 7, 2017
★★★★★ "Wow! I can honestly say I have never been so relaxed in my body and calm in my mind as my first massage with Frank. I had googled "migraines/massage/Philadelphia" was looking for a Board certified masseuse and his name came up. I have chronic migraines that medications, Botox, acupuncture, etc., have provided no relief from so I thought I'd give him a try. I am not new to massage, I have had many (Canyon Ranch Kripalu Lodge at Woodloch, Hershey Spa, etc.,) and have tried every technique. I've always enjoyed a good massage, but this was different. I can't really pick one specific thing that made the experience so awesome it was many things. Frank takes the time to discuss your issues/evaluate you. He gave me insights and suggestions on how to best care for my issues outside of his studio. The studio has a very safe, Zen like atmosphere. Beautiful studio, clean & welcoming. In a room with lit candles, the smell of essential oils and beautiful soft wavelike music it's hard not to breathe in and take a long breath out. I was really impressed how he tailored the massage for my body's issues. He was able to sense of what my body needed to relax and let go of stress. It wasn't a cookie cutter massage. He did a combination of Myofascial, Craniosacral, Trigger Point, Hot Stone, Thai Reflexology. What a talent to be able to pull from so many techniques and seemingly effortlessly make it feel like a flow. It was truly an integrative massage. Bottom line, he was able to break a 5day migraine cycle I was on and though it didn't stop them all together I have definitely felt better after going back several times. I highly recommend giving Frank a try!"
Sam G    October 16, 2017
★★★★★ "Frank completely relaxed me and gave wonderful massage. He also gave me exercises that I can do at home to improve my posture. Thank you Frank!"
Samantha K     October 19, 2017
★★★★★ "Very welcoming and warm office. Frank is very knowledgeable. I had a wonderful 90- minute therapeutic massage. If you want an effective noninvasive treatment for physical pain, Frank is your specialist to go to."
Gary F    October 23, 2017
★★★★★ "Frank has incredible skills. he was able to alleviate the majority of my back pain from gym injury so returning for ongoing care."
Ernesto W    October 23, 2017
★★★★★ "Frank has to be one of best massage therapists out there. His attention to detail gives you an idea of how he individualizes his sessions to each individual. Everything is thought out and done in a deliberate way and holistic manner. I highly recommend him."
Emily Galang   October 24, 2017
★★★★★ "I had a wonderful massage this past weekend and definitely plan to go back as soon as I can. Frank goes above and beyond to not only make you feel comfortable but to also understand the true nature of your pain/discomfort. I left feeling relaxed and centered."
Allen F (Rn)   November 4, 2017
★★★★★ "Frank has incredible skills. he was able to alleviate the majority of my back pain from gym injury so returning for onging care."
Peter F    November 11, 2017
★★★★ "Frank was very welcoming and did a thorough review of my issues, and took me through them and how he was going to address…Once the massaged started, I was given a choice of oil scents to have me drift off too, nice touch! The massage was a great combination of different styles to get my tight muscles to loosen up…plus some great stretching…during the session, Frank also gave me things to do to help loosen my muscles during my regular day. All in all, a great experience."
Renata H    November 17, 2017
★★★★★ "I left relaxed, informed and rejuvenated. Looking to implement the feedback to continue on my journey towards comprehensive wellness." 
Amanda Davis     December 27, 2017
★★★★★ "The only way to go wrong with frank is to not go to frank. I cannot say enough good things about his practice. Every time I see him I have a new issue and he steps up and helps me feel better. He is intuitive and caring – and knowledgeable."
Jennifer Stanton    December 27, 2017
★★★★ "Frank is a very different massage therapist, in a positive way. Before my first massage, he spent a good 45 minutes really getting to know me and the issues I was having with my back. He took time to analyze my posture and point out several problems with how I stood from my toes to my head. He even took pictures, so that he could show me the problems. He also spent time making me feel comfortable with the process and any potential strange emotional responses I might encounter. It was a great session and he went to the trouble to check in on my well-being the next day. I greatly appreciated the way he cared for both my physical and emotional wellness before, during and after the session. Highly recommend him to all!"
---